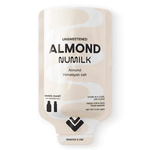 conveniently make plant-based
MILKs, LATTES, & PROTEIN SHAKES
Numilk pouches contain only the things you actually want in your plant-based milk of choice: real, pure, whole food ingredients.

It's also important that we point out what's not inside: no gums, no fillers, no processed sweeteners, and no preservatives. Only ingredients you can recognize - good for your taste buds, your health, and our planet.
WE BELIEVE IN MAKING OUR PLANET SUSTAINABLE
WHERE MILK IS
REAL, NUTRITIOUS, & CLEAN
NO DAIRY. NO GMOs. NO GUMS. NO FILLERS. NO BS.
LOWER YOUR CARBON FOOTPRINT WITHOUT SACRIFICE
marvelous TASTE without the WASTE
Less than
60 seconds
per quart
Dishwasher-Safe
Reusable Bottle
NO-FOAM
EMULSIFICATION
DRIVE